Luke Perry's son Jack is speaking out for the first time since his father's passing.
Just like his sister Sophia and the rest of Hollywood, we are all still in shock and deeply saddened by the seasoned actor's unexpected passing.
As we reported, the 90210 alum passed away on Monday, just a week after suffering a massive stroke at his Sherman Oaks, California home. The thespian was under observation following the health scare, but sadly did not pull through.
Related: Luke Perry's Daughter Sophia Breaks Silence Following Father's Passing
The thespian's 21-year-old son posted two sweet throwback photos with on Instagram with an emotional caption about his late father (below):
Jack Perry reflects on his late father's unwavering support of his wrestling career. / (c) Jack Perry/Instagram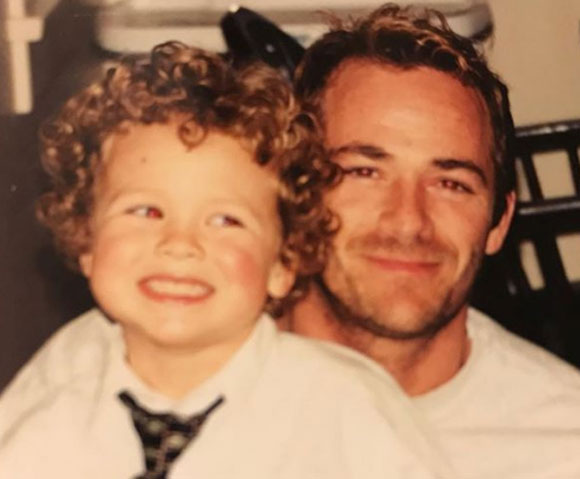 Luke Perry's son describes how life will never be the same without his father. / (c) Jack Perry/Instagram
"He was a lot of things to a lot of people. To me, he was always Dad. He loved supported me in everything, and inspired me to be the best that I could possibly be. I've learned so much from you, and my heart is broken thinking about everything you won't be here for. I'll miss you every day that I walk this earth. I'll do whatever I can to carry on your legacy and make you proud. I love you Dad."
Our heart truly goes out to you, Jack! Luke sounds like he was the perfect, supporting dad we'd expect him to be.
In the wake of the sad news, the Bar Wrestling athlete who wrestles professionally under the stage name "Jungle Boy" recently decided to pulled out of an upcoming show on March 13.
It's totally understandable and expected that he would need some private time to grieve.
The wrestling organization shared the news and offered their condolences to the 21-year-old fighter in an official statement via Twitter (below):
"Unfortunately Jungle Boy will no longer be wrestling at our March 13th show. Our thoughts and prayers are with him and his family at this time."
Unfortunately Jungle Boy will no longer be wrestling at our March 13th show. Our thoughts and prayers are with him and his family at this time. pic.twitter.com/7FkFGZq20a
— Bar Wrestling (@BarWrestling) March 6, 2019
Related: Colin Hanks Shares The BEST Luke Perry Story Following The '90210' Alum's Passing
Meanwhile, the late 52-year-old's Riverdale family continues to find ways to honor their beloved colleague.
As we wrote, the CW announced filming on the drama, on which Perry played Fred Andrews, was suspended to allow cast and crew time to grieve.
Ahead of tonight's episode, Riverdale showrunner Roberto Aguirre-Sacasa took to Twitter to announce that this episode and the rest of the show's future seasons would be dedicated to Luke.
See his heartfelt message to fans, complete with a sweet throwback photo of the cast (below):
"Going through pictures on my way to set. From the early days. With Luke in the middle. Our heart, always. Tonight's episode of #Riverdale finds Fred doing what he does best — helping Archie. it is dedicated to Luke, as all episodes will be for the rest of our run.
"
The late Luke Perry posing with members of the 'Riverdale' cast. / (c) Roberto Aguirre-Sacasa/ Twitter
It's safe to say the show will truly never be the same without him.
We send our continued support and condolences to Perry's friends, colleagues, and loved ones at this time. R.I.P.
[Image via Judy Eddy/WENN/Jack Perry/Facebook]
The post Luke Perry's Son Breaks His Silence On His Father's Passing, As 'Riverdale' Dedicates The Rest Of Its Season To The Late Actor appeared first on Perez Hilton.